My heart started pounding while I read the email last August. As I read through the details of the contest Compassion International was holding, I felt like it was quite possibly made for me.
The goal of the contest was to engage bloggers to spread the word about Compassion International and also generate sponsorships. On top of that, there were lots of prizes available to those who participated.
My heart simultaneously leapt and stopped when my eyes came across the grand prize.
"The blogger who brings in the most sponsorships through their blog between Sept. 1 and Sept. 30 will get to travel with some of our top name bloggers to a country where Compassion works."
I love seeing children sponsored and I love blogging about Compassion. I had been dreaming about travelling to see Compassion at work in their field, specifically in Africa.
All through that September, I was conflicted. I really, really wanted to win that trip. While part of me felt that the contest was actually made for me, I couldn't really allow myself to think about to too much. When hope flickered in my heart, I then dealt with thoughts of not being enough.
So many friends prayed for me and took on new sponsorships, in support of the children and my dream.
Then, one October morning, I opened my email to find the Compassion Blog post I had been waiting for.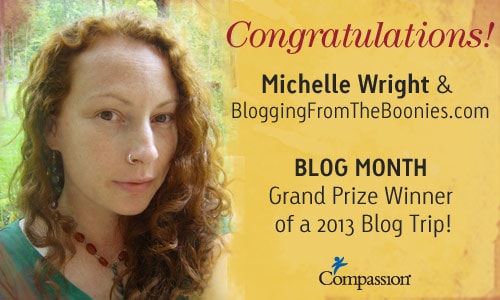 Wow, the emotions that poured over me when I saw that image for the first time!
I relived them again today when an email I opened contained an invitation to join the Compassion Bloggers when they travel to Uganda this fall.
Uganda…..
A country where four of our beautiful Compassion International children live.
Shy little Madina, one of the babies of our Compassion family.
Handsome Onen Patrick, the young man our church sponsored during Blog Month.
Kind and caring Obwini Stephen, a young man co-sponsored with the help of the Blogging from the Boonies community.
And lastly, Kwagala Deborah, the young lady who has stolen my heart and who calls me Mom. I know that we are not supposed to have favorites, but there is an extra special place in my heart for this beautiful girl.
While the details and specifics of my trip are not set yet, I am hopeful that I'll be able to meet at least a few of these sweet children.
Today, I am just so thankful. To my friends, family and blog readers who have supported me, you have my thanks. I will be sure to keep you all updated as I hear more about my trip!
Thank you, Lord!