Through my involvement with Compassion International, I have been blessed with the opportunity to get to know some amazing women.  One of those amazing women is my friend Jill, who publishes the blog called Compassion Family.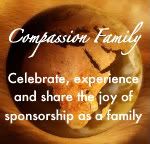 Jill created Compassion Family as a resource for families to persue the ministry of Compassion International together.  I have seen first hand how my own daughters have been able to connect with our sponsor children and have gained a different perspective as we've studied the countries and cultures of all of our children.
Jill's blog features so many great ways to share the experience of sponsorship with your own children.
If you hop over to Compassion Family, you will find:
ways to pray for your sponsored child(ren)
posts featuring books, websites and videos that spotlight specific Compassion-assisted countries
memory verses
book reviews
family activities
….and SO much more!
Click the Compassion Family link and take a few minutes to read through Jill's great blog! You will find so many ways to make your Compassion sponsorship a family affair!
~Michelle