Mondays are usually good for Happy Dance inducing mail from Compassion International and today did not disappoint.
Today, it was a letter from our smiley Alice in Kenya.
Alice joined our family just a few weeks before her 11th birthday last November.  Even though we knew it would arrive 2-3 months late, we sent out a $25 birthday gift to her right away. Each of  our Compassion International children receive $25 from us for their birthdays and I am always humbled and amazed at what they've been able to purchase. (See photos at the bottom of the page for some of the photos we've received.)
"Receive many greetings from me, Alice. I thank you so much for being my sponsor.  I am so happy to have a friend outside of Kenya. With the gift you sent, I received books, pencils, a petticoat, socks and a mattress."
A lump quickly formed in my throat and tears came to my eyes when I read that last line.
Often, as I tuck my own girls into their soft beds in the evenings, my mind goes to the children all over the world who sleep on dirt or thin mats night after night.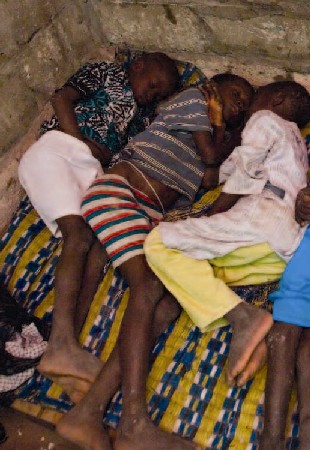 Truth is, most dogs in America have cozier sleeping arrangements than the many, many children living in poverty around the world.
So, I am thankful and humbled that our small gift could go provide Alice (and probably her siblings) with a soft place to lay their heads at night. 
Like I have said before, having these beautiful children in our lives provides a perspective that we might not have had otherwise.  We can look at the nice beds we tuck our girls into at night and we can see them for the luxury that they really are. Through Compassion International, we have the opportunity to share a little of our "extra" to provide comfort for nine treasured children around the world.
We are so blessed.
~Michelle