Today marks the 8th birthday of a sweet and special little girl!
A year ago, tomorrow, we started sponsorship of this beautiful child in Ghana. I had heard about Compassion International in passing from a friend. Something in my heart led me to look into it more and being somewhat of a skeptic, I researched for about two weeks. I used my Google-Fu skills to search high and low and didn't find anything about the organization that put up red flags. Then, I approached my husband about it. We are a single income family with three girls and we're certainly not rollin' in the dough, but I thought it would be really good for us to do something for at least one child living in poverty. I had looked through most of the children on the Compassion website and was drawn to this precious girl in a yellow dress with a shy and somewhat apprehensive look on her face. Her name said it all ~ Precious.
We had a small piece of land up for sale and had quite a few bites, so my husband said that if we sold it for the price we were asking, we could go ahead and start sponsorship. A few days later, the sale went through and we had a down payment in our hands. I can remember the moment clearly, being down in the basement woodshop talking to Jay and he said, "Ok, go ahead. We can sponsor Precious now!" I cried tears of joy and did a happy dance and then ran up to the computer, hoping that she'd still be there on the website. She was, and the rest is history. It wasn't until the sponsorship went through that I noticed that we had missed her birthday by one day. The Compassion website has an option to send a financial gift to your child or family (they get 100% of the gift money), so I talked to Jay and we sent her $20. We knew it would take a few months to get to her, but better late than never, right?
A few months later, we received this photo.
Precious is here with her grandmother and father, siblings and many of the children from her project ( GH220 ~ Bisease Methodist Child Devolpment Center) With that $20 she received a dress, shoes, sponge, toothbrush and toothpaste, paints, books and had enough left over to treat her friends to some soda, a rare treat! Twenty dollars. I was blown away when the reality of it hit me.
This year of being involved with Compassion has been incredible. It has changed how we look at "wants vs. needs" and the resources that God provides for us. It has helped up to see that we CAN change the world for one child without a huge sacrifice on our part. Now, a year later, we have 6 beautiful Compassion children in our family and I praise God for having them in our lives.
Now, for a few more of the books we've enjoyed this week!
This book is from the author of Mama, Do You Love Me? and is the lovely tale of a father and son from the Maasai tribe in Kenya. The reassuring message of unshakable love is reinforced by lovely illustrations. Truly a beautiful book!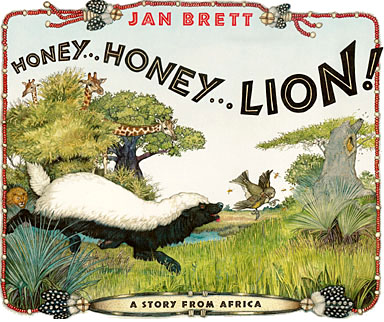 I am a big fan of Jan Brett's work. Her illustrations always captivate me and this book is no exception! This is the story of a honeyguide and greedy honey badger as they race across the Okavango Delta.
This last book is about a family in Ghana that uses a small loan to make a better life for themselves. It is a great lesson that shows how one act can snowball into greater good, as a little boy buys one hen. With the eggs from that one hen, he is then able to buy more hens as well as have some eggs to eat. Those added hens provide enough profit for Kojo to pay for school fees and get an education. The story goes on to show how this loan for one hen grows and grows. I also loved how this book is worded so that you can read a simple story for younger audiences or a more detailed story for older kids. This a wonderful reminder that one small act can truly change lives.
Lastly, I'd like to share my excitement in being listed on this blog post from Compassion.  Looks like I have quite a few great blogs to add to my Google Reader feed!